In this tutorial, we will be showing you How To Add and Remove Liquidity in RARE/XDAI Pool on honeyswap. Before we can start, we will assume you have the following prerequisites met.
You have a xDai compatible wallet downloaded and installed.
You are connected to the xDai network.
You have an equal value amount of xDai / Rare ratio in your wallet.
Before we get into the specifics let's explore why you may want to add liquidity in the first place. 
When you successfully supply liquidity, honeyswap will reward you will pool tokens that represent your share of the pool. The larger the percentage, the more money you will make in fees. In April 2021, you will be able to stake these tokens to earn even more Rare! So adding liquidity can earn you great returns with smaller downside risk when compared to just hodling. 
When you supply liquidity, you make trading possible. But in order to do that you must supply both Rare & xDai. For a full description of how and why it works, check out this article by Pintail.
Either way, when you supply liquidity to the honeyswap RARE/XDAI you will earn fees as a reward. The catch is, it has to be 50% RARE and 50% XDAI ratio. In this tutorial, we will add liquidity worth $200 for RARE/XDAI pool then remove liquidity afterward.
HOW TO ADD LIQUIDITY
Step 1) Go to Honeyswap site (https://app.honeyswap.org/#/swap) and make sure you are connected to xDai Network.
Step 2) Find RARE coin in the pool tab. If you can't find the coin, search it with the below address and add the token.
Rare Coin : 0x57e93BB58268dE818B42E3795c97BAD58aFCD3Fe
You can check RARE token information at xDai Chain Blockscout URL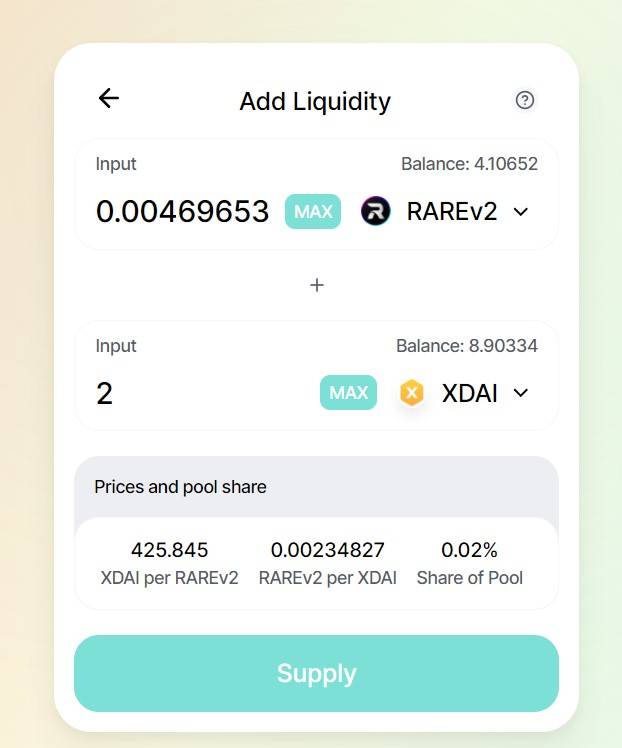 Step 3) Input the amount of either RARE or XDAI token. If you input RARE amount, it automatically fills up the equivalent amount in XDAI or vice versa.
Step 4) Click the "Approve RARE" button to open up the MetaMask web extension then Click the "Confirm" button to process the transaction.
Step 5) Next we will need to change the gas limit to "500000", to avoid any stuck transactions.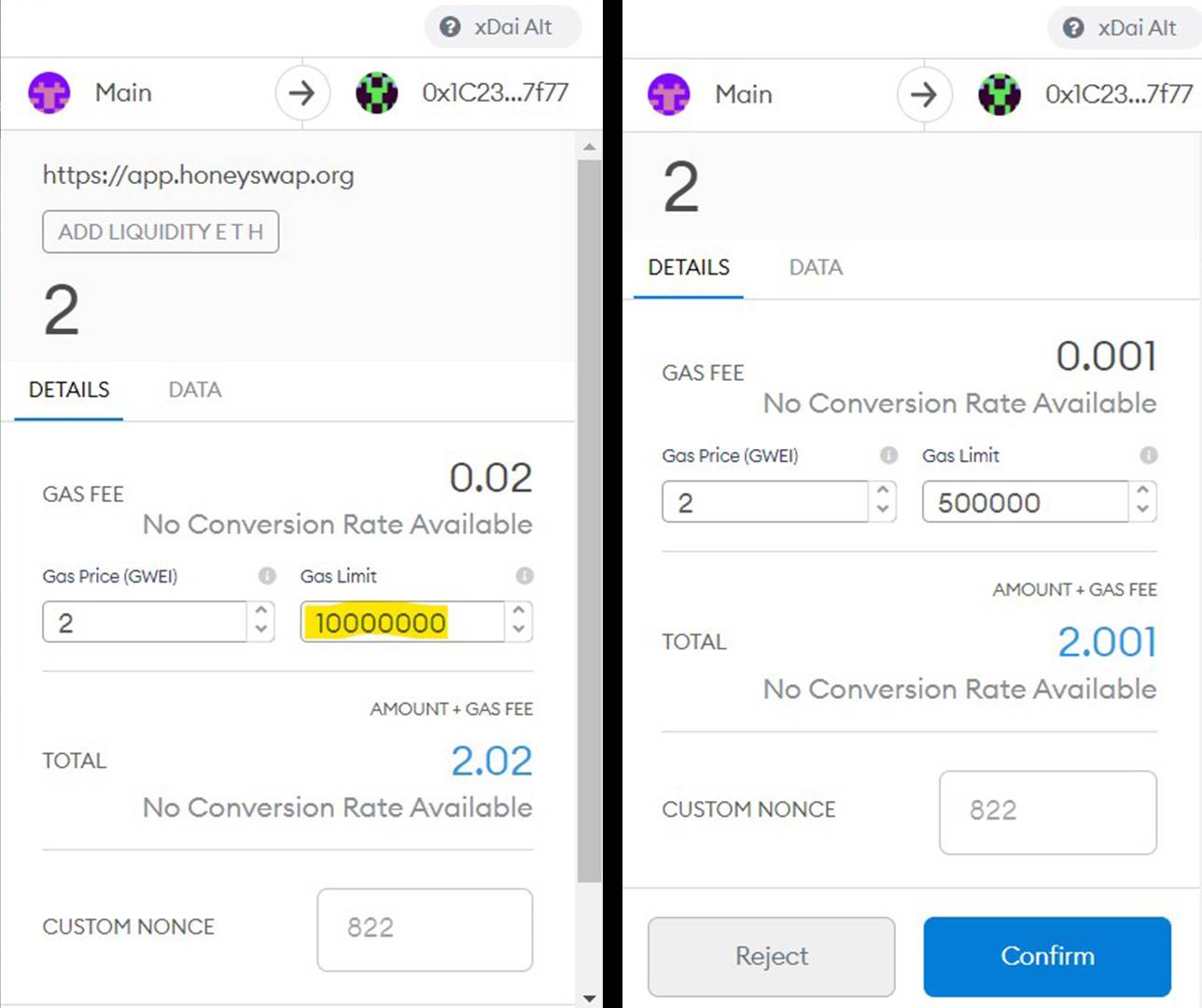 Step 6) Once Approved, the transaction is submitted and finally added to the pool. Below we see a number: 4.444. This is how many pool tokens I have and now can stake when the farming app goes live in April!
HOW TO REMOVE LIQUIDITY
Step 1) Click the "Pool" tab, then choose RARE/XDAI to display the liquidity details. Tap the "Remove" button to start the removal process.
Step 2) Now, you will have the option to choose how much you would like to remove. You can remove a fraction or In this case, I chose the "Max" button which is 100% of my share. Click the "Remove" button to continue the request.
Step 3) Review the details then click the "Confirm" button to open up MetaMask web extension app.
Step 4) Review the transaction and click the "Confirm" button to continue. You may want to change the GWEI price to 1 since we are on the xDai network to reduce fees.
Step 5) Once the transaction is submitted and completed, your share is now removed from the pool.
If you want to earn the best yields then make sure you collect as much rare as you can now before the yield app launches this April. You can claim some from the faucet or buy some more on honeyswap. You will need some xDai first, one of the best ways to get xDai is with Ramp.network or bridge some Dai from mainnet. If you have any more questions you can check out our other walkthroughs & tutorials.
You can also join our telegram news channel to hear up-to-date announcements about the project or share what you discover with others in the community group!
Official FAQS: https://rare.fyi/faqs
Official Claiming App: https://rare.claims
Public News Channel: https://t.me/rarify_news
Rarify Public Community: https://t.me/rarify_community