In this tutorial, we will be showing you how to add Rare Coin as a custom token on Metamask. Before we can start, we will assume you have the following prerequisites met.
UPDATE: You can skip the tutorial and watch a quick 1 minute video instead by clicking the video links below. Simply visit and connect to our app @ rare.claims then follow the corresponding video.
The below tutorial will show you how to Manually add the Rare Token or any ERC-20 token to metamask. 


Step 1) Launch your MetaMask extension app from the browser and make sure you are connected to xDai Network. Click on the 3 dots as shown below and choose Expand view. Note that you can also do the procedure as is without expanding the view.
Step 2) Click on the "Add Token" button.
Step 3) On Add Token view, click the "Custom Token" tab. Then, copy and paste the RARE Coin contract address given above in the Token Contract Address field.
Address: 0x57e93BB58268dE818B42E3795c97BAD58aFCD3Fe
Once you paste it in, the app will auto populate the rest of the details. If it doesn't just enter it in like the picture below. Finally, click "Next".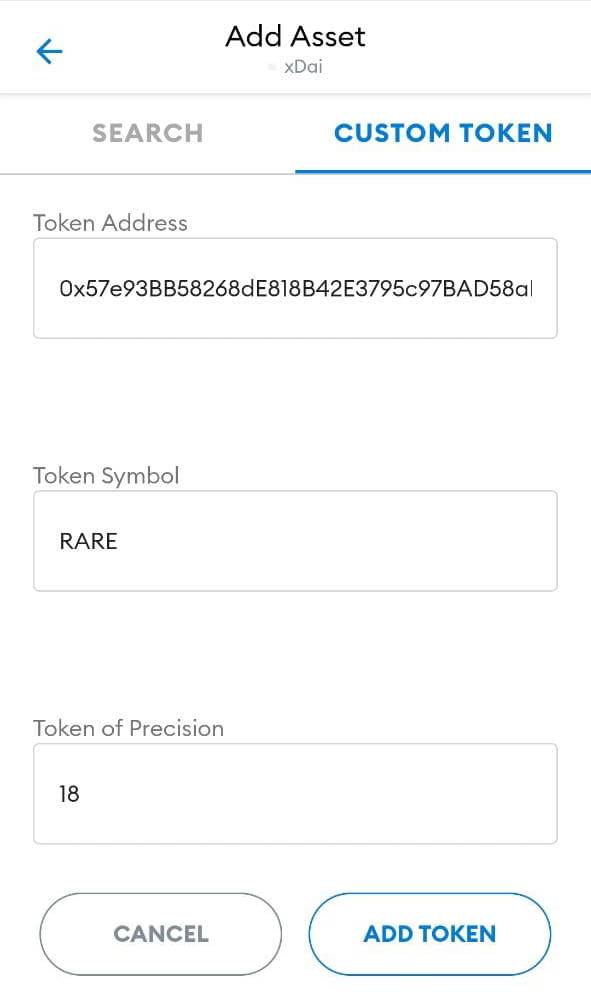 Step 4) Next confirm the token by clicking the "Add Tokens" button to add RARE token into your MetaMask app.
The RARE token is finally added. Click on MetaMask logo to return to the Homepage!
MetaMask homepage now displays the newly added RARE token. If you have any balance it will now show on your wallet balance screen. If you don't have any Rare then you can always claim some from the faucet or buy some more on honeyswap. You will need some xDai first, one of the best ways to get xDai is with Ramp.network or bridge some Dai from mainnet.
Note: You can always check RARE token information at xDai Chain Blockscout URL: https://blockscout.com/poa/xdai/tokens/0x57e93BB58268dE818B42E3795c97BAD58aFCD3Fe/token-transfers
Now that you have the Rare Token setup in Metamask you probably want to start claiming Rare! You can Start Claiming Now Or check out this tutorial on how to do it. If you have any more questions you can check out our other walkthroughs & tutorials.
You can also join our telegram news channel to hear up-to-date announcements about the project or share what you discover with others in the community group!
Official FAQS: https://rare.fyi/faqs
Official Claiming App: https://rare.claims
Public News Channel: https://t.me/rarify_news
Rarify Public Community: https://t.me/rarify_community